Follow the Sooners during the fall
____________________________________________
Games will be broadcast on KSEO 94.1 FM and 750 AM-Durant (subject to sign off).  Internet audio will also be available at http://941kseo.com/
Schedule subject to change.
___________________________________________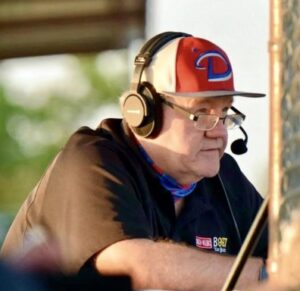 Jim Reagan is the voice of Durant high school sports.  He has covered Texoma area sports on KLBC 106.3 FM and KSEO 94,1 FM and 750 AM since 2007 providing play-by-play of several sports.
Prior to his work in Durant, Jim spent 16 years as co-host of  Friday Night Finals, a statewide high school football scoreboard  show heard on the Oklahoma News Network.
He was also an in-studio director for several college sports radio networks including  Texas A & M. Texas Tech, Oklahoma State, Iowa State, and Tulsa while working for Clear Channel Sports Networks.
Jim has also worked as a news and sports anchor/reporter at WKY and KTOK radio stations in Oklahoma City.  He earned a degree in broadcasting from Central State University (UCO) and was an all NAIA district first baseman for the Broncho baseball team.
He delivers KLBC weekday morning sports at 6:30 and 7:30 and morning news at 6:00,  7:00 and 8:00 and joins Scott Corbin from 6-10 am weekday mornings for the "Scott and Jim Show" on KLBC-FM 106.3 FM.  You can catch his Texoma Sports Updates on KSEO AM-750-94.1 FM Monday-Friday mornings during the seven o'clock and noon hours.