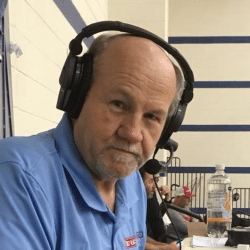 Jim, in addition to being a child of '60's and 70's music, is a veteran of 40 years experience in Oklahoma radio news and sports broadcasting. As sports director at KLBC/KSEO/KBBC Jim has broadcast both college and high school basketball games.
Prior to his work in Durant, Jim spent 16 years as co-host of  Friday Night Finals, a statewide high school football scoreboard  show heard on the Oklahoma News Network.
He was also an in-studio director for several college sports radio networks including  Texas A & M. Texas Tech, Oklahoma State, Iowa State, and Tulsa while working for Clear Channel Sports Networks.
Jim has also worked as a news and sports anchor/reporter at WKY and KTOK radio stations in Oklahoma City.  He earned a degree in broadcasting from Central State University (UCO) and was an all NAIA district first baseman for the Broncho baseball team.
---
Weekday mornings, Jim Reagan has sports at 6:30 and 7:30 and Texoma news at 6:00, 7:00 and 8:00 and joins Scott Corbin from 6-10 am weekday mornings during the "Scott and Jim show" on KLBC-FM 106.3 FM.  You can catch his Texoma Sports Updates on KSEO AM-750-94.1 FM Monday-Friday mornings during the seven o'clock and noon hours.
Jim Reagan
On twitter: Follow @TheReag